Join to "A Rice Planting Tour" ~Rice Paddy Art of Inakadate Village in 2015~
16.07.2015
May 31, (Sun.), 2015, Dean Sasaki, Faculty of Agriculture and Life Science, Hirosaki University, the faculty members, and the students including Bangladei, Vietnamese, and Chinese international students joined to "A Rice Planting Tour" at Inakadate village, where is located near Hirosaki City, Aomori Prefecture, to create magnificent artistic works to rice paddy fields with rice plants, that was hosted by Regional support center. Approximately 1,700 people including tourists from all over the world, that is unprecedented total number of participants, visited Inakadate Village to make the 2015 giant work of art.
We were offered to complete one of the 2015 designs "Gone with the Wind" with other participants.
At the opening ceremony, AOMORI Hana-Arashi-Sakura group danced "Yosakoi Soran", which is an energetic performance that mixed up a dance for "Yosakoi Festival" in Kochi prefecture with a traditional folk song "Soran Bushi" in Hokkaido, for the tour to add enjoyable atmosphere.
During the early morning, raindrops were slightly falling that made us disappointed to do, however it turned out to be a cloudy sky before the ceremony. We all enjoyed ourselves to plant rice for the art under mild weather condition.
Inakadate village's staff kindly served all the participants "Rice ball and Ton Jiru*" for lunch. We received each very deliciously.
*It's a miso soup with pork and vegetables
To find more about rice paddy art, visit at http://www.en-aomori.com/rice-paddy-art-viewing-inakadate-village.html
Inquiry
Reginal support center
Email: renkei@hirosaki-u.ac.jp
TEL: +81-172-39-3758
Fax: +81-172-39-3757
HP: http://nature.cc.hirosaki-u.ac.jp/other/renkei/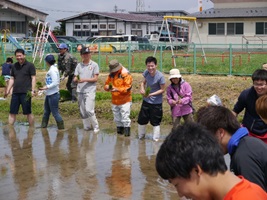 They stand in a line at the edge of the rice paddy holding rice plants in their hand to get ready.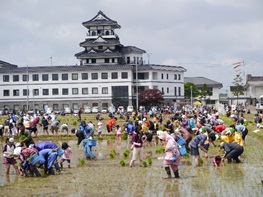 The participants are having a pleasant time to plant rice.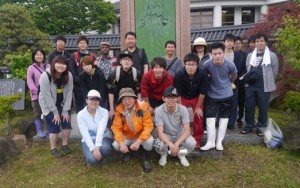 Group photo including Dean Sasaki, Faculty of Agriculture and Life Science