Institutions and Facilities
Research Institute
Institute of Radiation Emergency Medicine
Nuclear facilities are operating in Aomori Prefecture and the preparedness for radiation emergency is of cardinal importance for the foundation of energy policy of our country. Institute of Radiation Emergency Medicine promotes the research on radiation emergency and supports the education in the faculties and graduate schools in Hirosaki University and generates various professionals required in nuclear and medical facilities in Aomori and all over Japan.
Institute of Radiation Emergency Medicine
Institute of Regional Innovation
Institute of Regional Innovation consists of three sections. The first one is Section of Sustainable Energy, which conducts research, education, and practice relating to the utilization of various energy resources, especially those renewable energy rich in Aomori Prefecture, and the energy systems with great regional characteristics. The second one is Section of Food Sciences, which contributes to the value of agricultural, forestry, and marine products of Aomori Prefecture through research on food function, and plays a role as a coordinator in the "Growth Strategy for the Food Industry in Northern Japan". The third one is Section of Regional Innovation Management, which aims to solve regional issues through research and development, leading to social implementation and regional development by strengthening cooperation between the university and regional industrial sectors, financial institutions and governments.
University Hospital
University Hospital
Since 1944, Hirosaki University Hospital has been continuing to develop as one of the most distinguished centers for medical care, clinical research and medical education in the northern part of Japan.
Mission of Hirosaki University Hospital
Our mission is to practice leading-edge medicine, to deliver advanced medical education, and to conduct innovative medical research in accordance with the established ethical standards, thereby bringing physical and psychological health and hope to the lives of patients and contributing to the community wellbeing.
Goals of Hirosaki University Hospital
As an advanced acute care hospital, we will strengthen our collaboration with local medical institutions/organizations to provide high-quality care.
We will continue to train our students to become professional, global-minded healthcare providers.
We will continue to engage in the research and development of advanced medical technology that is focused on clinical care.
We will expand our educational/research/patient care functions and improve our healthcare/labor environment.
Clinics
Gastroenterology
Hematology
Rheumatology
Cardiology
Respiratory Medicine
Nephrology
Endocrinology
Diabetes and Metabolism
Infectious Diseases
Neurology
Medical Oncology
Neuro-psychiatry
Pediatrics
Thoracic Surgery
Cardiovascular Surgery
Gastroenterological Surgery
Breast Surgery
Thyroid Surgery
Orthopaedic Surgery
Dermatology
Urology
Ophthalmology
Otorhinolaryngology
Radiation Oncology
Diagnostic Radiology
Obstetrics and Gynecology
Anesthesiology
Neurosurgery
Plastic and Reconstructive Surgery
Pediatric Surgery
Dentistry and Oral Surgery
Anatomic Pathology
Emergency Department
Rehabilitation Medicine
General Medicine
Advanced Emergency and Disaster Medical Center
Advanced Emergency and Disaster Medical Center
An advanced emergency care center ready for radiationexposure hazards, "Advanced Emergency and Disaster Medical Center," is in operation.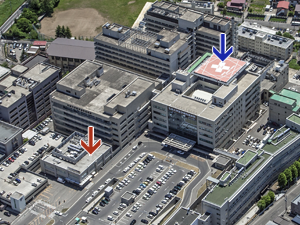 Aerial Photo
↓ Building
↓ Heliport
University Library
University Library
The Hirosaki University Library was established in May 1949, and now consists of the Main Library, the Medical Branch. The total number of volumes is about 820,000. In addition to books and serials for study and research, electronic materials such as DVD databases and online facilities which include 7,400 titles of online journals are also available. Service is offered throughout the week (with the exception of Saturday and Sunday during seasonal vacations) to not only members of the University, but also visitors from the community (though such service is restricted).Various information, guides for users, catalogues, online journals, study information in the University etc., are available via the Library's web pages.
Volumes
This table shows number of the university's library holdings as of March 31, 2018.
Divisions
Main Library
Japanese and Chinese
507,519
Other Foreign Books
164,837
Medical Branch
Japanese and Chinese
81,803
Other Foreign Books
67,750
Total
821,909
Library Usage
Library usage of the 2017 fiscal year.
| Divisions | Days Open | Visitors | Book Loans(Persons) | Book Loans(Books) |
| --- | --- | --- | --- | --- |
| Main Library | 301 | 231,860 | 24,370 | 42,562 |
| Medical Branch | 335 | 36,350 | 7,095 | 12,238 |
| Total | – | 268,210 | 31,465 | 54,800 |
Interdisciplinary Research Facilitie
Health Administration Center
The Health Administration Center aims to offer the best physical and mental health services for students and staff to lead healthy lives on campus. We offer medical examinations, first aid, health consultation, mental health counseling, and research for health maintenance and illness prevention for all students and staff.
Founded in June 1967
Radioisotope Laboratory
Radioisotope laboratory is dedicated for education, and basic and applied researches using radioisotopes in the University.
Founded in Oct. 1999
Hirosaki University Press
Hirosaki University Press was founded on the occasion of the establishment of National University Corporation Hirosaki University. The press distributes and promotes scholarly researches to be published in Hirosaki University and Tohoku region. Hirosaki University Press could associate with the Association of Japanese University Presses on May, 2007, thereby contributing to the progress of education and research in Japan.
Founded in June 2004
Hirosaki University Museum
Hirosaki University Museum was opened as the theme of " Hirosaki University, past to the future". We display condensed extract of Hirosaki University including the history from each previous school such as the government establishment Hirosaki high school where Osamu Dazai studied to current university and various results of research to be connected to the future.
Founded in Oct. 2012
Office
Department of International Education & Collaboration
The Department of International Education & Collaboration(D-IEC) was established to promote globalization throughout the university, further internationalize education and research through cross-organizational cooperation and foster global human resources that can play a role in the development of the region.

The D-IEC consists of three divisions: the International Cooperation Promotion Division, the International Education Division and the International Support Division.

These three divisions cooperate to appropriately develop new partner universities and exchange programs, implement promotion of study abroad opportunities, enhance education for incoming and outgoing international students and provide them detailed support as well as manage the risks involved in overseas travel. In particular, the D-IEC plays a central role in the progress of international exchange by promoting the development of education and research exchange programs that take advantage of our experience with partner universities.
Office of Regional Revitalization
The Regional Revitalization Division, established in October 2018, is responsible for formulating basic policies for measures related to regional revitalization and for cross-sectional supervision of the university's departments from the perspective of regional revitalization.

The Division has Regional Cooperation Promotion Section, Regional Revitalization Human Resource Development Section and Volunteer Center. It has concluded comprehensive cooperation agreements with local governments and financial institutions in the prefecture, conducted collaborative research projects to solve local issues, carried out measures to develop local human resources and measures leading students to choose to stay in Aomori, and promoted volunteer-related projects.

Aiming to become 'a university that supports and is supported by local communities', the Regional Revitalization Division will continue to contributes further to local communities through education and research activities.
Information Management Headquarters
Information Management Headquarters was established in April, 2019 for the purpose of promoting operations related to information security measures. In addition to the Information Infrastructure Operation Division, which is in charge of the management and operation of the information infrastructure system and the university LAN system, the Information Technology Center will newly establish the Information Management and Countermeasures Division, which will be in charge of responding to university-wide information security incidents and operating and managing countermeasures, to support the safe, secure, and comfortable use of computer networks by all members of the university. We will support the safe, secure, and comfortable use of computer networks by all members of the university.